Coeliac disease management and follow-up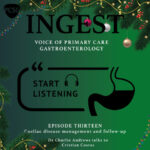 Join Charlie Andrews in this episode where he speaks to Cristian Costas about the management of people diagnosed with coeliac disease.  Cristian is a dynamic dietician who is based in Bradford.  He is passionate about coeliac disease and runs an innovative dietician-led service for those with coeliac disease in his area.  
Cristian shares with us his top tips for supporting someone newly diagnosed with coeliac disease, including where to access support for those who are newly diagnosed, and how to avoid common dietary pitfalls.  We discuss how best to follow-up people with coeliac disease, and key interventions such as assessments for osteoporosis and vaccinations for coeliacs.  
We know that education and the support of a dietician are key interventions that can help patients manage the gluten-free diet effectively, and in this episode, Cristian shares his passion for improving the care for those with coeliac disease. An informative, enjoyable and inspiring listen!