IBS – dietary management and the 10-minute consultation…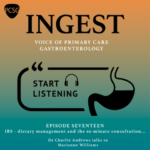 Marianne Williams is an extremely experienced dietician, innovator, digital technology advocate and winner of the NHS England Allied Health Professional of the Year prize for 2018.  
In this episode, Marianne shares her wealth of knowledge around all things IBS to discuss initial dietary management, the low FODMAPs diet, the role of probiotics, and gives us some great advice about how we can maximise our (often short) patient consultations with newly diagnosed IBS patients.  Marianne also discusses her innovative dietetic-led gastroenterology clinic for IBS patients with us.  
There is so much food for thought here, and so many useful nuggets of information throughout this episode. Sit back and tuck into this feast of information!
Useful links/websites discussed in the episode:
Patient Webinars website: https://patientwebinars.co.uk/
Monash university IBS grand tour: https://www.youtube.com/watch?v=Z_1Hzl9o5ic
Monash university app: https://www.monashfodmap.com/ibs-central/i-have-ibs/get-the-app/
IBS symptoms, the low FODMAP diet and the Monash app that can help See updated video for Irritable Bowel Syndrome (IBS) relief: Take the Monash University Low FODMAP grand tour down under! at https://www.youtube.com/watch?v=stdYoA4G9Dg
See more: IBS patient course: https://www.monashfodmap.com/online-training/patients-course/
Website: https://www.monashfodmap.com/
Monash FODMAP blog: https://www.monashfodmap …www.youtube.com
BSG guidelines on the management of IBS: https://gut.bmj.com/content/gutjnl/early/2021/04/27/gutjnl-2021-324598.full.pdf