Background to FIT testing in primary care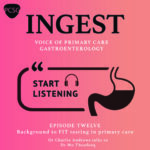 In primary care, we are increasingly using FIT (Faecal Immunochemical Testing) to assess the risk of bowel cancer in patients with lower gastrointestinal symptoms, whilst the latest PCN DES IIF (Impact and Investment Fund) has given FIT a prominent role in risk stratifying 2-week wait referrals to secondary care.
In this episode, Mo Thoufeeq, a gastroenterologist in Sheffield, talks to me about what FIT is, how it differs from previously used FOBT (and why it is a more effective test!), and how we are using FIT in both symptomatic and asymptomatic patients. He shares his top tips about how to interpret, when to test and we discuss the tricky areas of patients with rectal bleeding and those with iron deficient anaemia.
Mo has a deep knowledge and understanding of FIT and provides a fantastic and relevant discussion of the topic for our primary care audience in this episode.