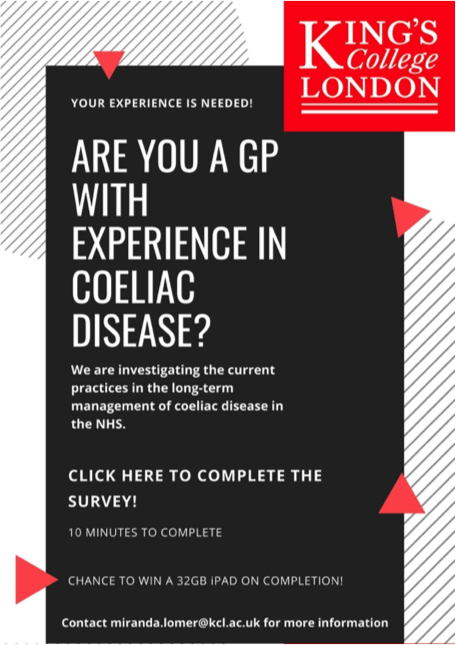 Project Info
Client
King's College London
Project Description
We would like to invite you to participate in this online questionnaire investigating current practices in the management of coeliac disease in the UK.
The project is a collaboration between Dr Charles Andrews, General Practitioner at Mendip Vale Medical Practice, Dr Matt Brookes Consultant Gastroenterologist at the Royal Wolverhampton NHS Trust and Dr Miranda Lomer, Reader in Dietetics at King's College London.
The study aims to identify the current practices, experiences and perspectives of general practitioners, gastroenterologists and dietitians  involved in the management of coeliac disease within the NHS. We hope that this will ultimately lead to service improvements and developments in future long-term management of patients with coeliac disease.
The survey should take no more than 10 mins.
On completion of the study, you can choose to enter a competition to win a 32GB iPad!
If you would like further information, please email Dr Miranda Lomer.
Thank you in advance for helping with this important research.
GO TO QUESTIONNAIRE